The Reddit community is buzzing about a new public blockchain project called Thinkium, which has accumulated thousands of followers in less than a month since it was built. Many community members hold a confirmed and optimistic consensus on the development of Thinkium, that the omnipotent Thinkium will become the technology leader in the era of Web 3.0.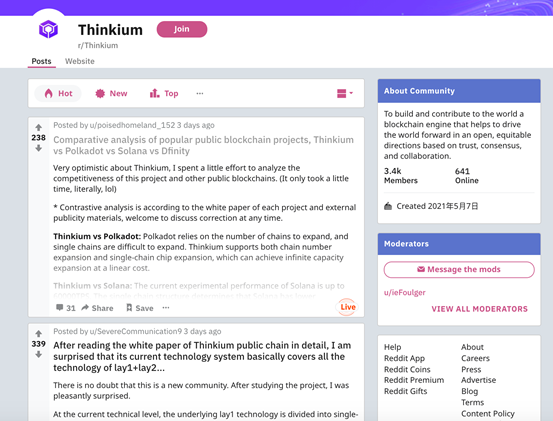 According to community members, Thinkium's omnipotence is reflected in two aspects.
First of all, Thinkium has integrated various technologies of Layer1 + Layer2 at the technical aspect, including layered and parallel sub-chains, homogeneous and heterogeneous cross-chains, sharding, EVM and asset bridge, etc. Theoretically, all digital assets can circulate freely and efficiently on the Thinkium public chain at present.
Second, at the ecological aspect, in addition, to fully connected assets in the digital world, community members believe that the greater potential of Thinkium lies in its unique multi-layer multi-chain structure, which can host large-scale Internet-level applications and help bridge the gap between the physical business world and the digital world.
According to DuneAnalytics, the total number of participants in the DeFi field as of April 2021 is about 2.41 million, which is far less than the number of users for a small-scale Internet product.
Although there have been frequent new stars in the public blockchain field, Polkadot, Solana, Dfinity and other projects all claimed to be the infrastructure of Web 3.0, until now, the industry generally believes that the public blockchain is still in a period of steady development and has not really been able to support the large-scale application implementation of the Internet level.
Members of the Reddit community compared Thinkium with the public chains and came to the following conclusions:
Polkadot relies on the number of chains to expand, but it's single-chain is difficult to expand. Thinkium supports both chain number expansion and intra-chain sharding, which can achieve infinite capacity expansion at a linear cost.
The current performance of Solana is up to 60000TPS. The single chain structure determines that Solana has lower extensibility and its application scenarios are more limited to the financial and trading fields. At present, the performance of Thinkium has reached 100000TPS. Based on the features of Thinkium main chain, such as low cost, high efficiency cross-chain, infinite extensibility of performance, high concurrency of complex contracts, the application range of the public chain in the industry can also be expanded infinitely.
Due to the algorithm of DFINITY, as the network latency increases, the forking possibility will become more and more. Transactions require multiple block confirmations, and the average practice confirmations take 7.5 seconds. Thinkium forms a complete set of consensus protocol stack suitable for multi-layer multi-chain structure. A deterministic consensus algorithm can quickly complete the transaction confirmation, the current practice confirmation time is around 3 seconds.
Community members believe that with the strong tendency of Thinkium, as well as its unique multi-layer multi-chain structure, Thinkium can support unlimited performance expansion at linear cost, making it more competitive in the infrastructure of Web 3.0.
Thinkium team was founded in 2017. The foundation's members and technical advisors include core members of the IEEE Association, professors of American universities, former senior engineers of the New York Mercantile Exchange, former senior executives of HKEx, and the main organizer of "Blockchain Sydney". Thinkium has concentrated on technology for nearly 5 years and is now vigorously expanding ecological cooperation.
Date Updated: May 18, 2021 01:44 AM UTC+8 PHT
All information is meant for informational purposes only. Bl4nkcode does not provide any investment, legal or financial advices. Readers should do their own research before investing funds in any company/service/organizations mentioned.